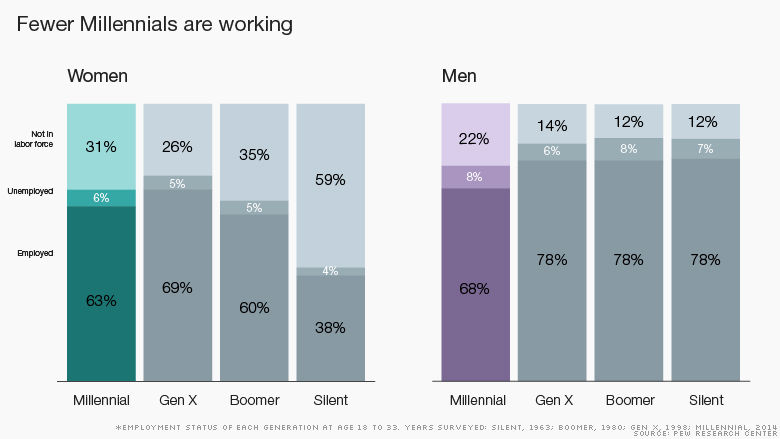 As the baby boomers start reaching retirement age, and many already in retirement there are a number of jobs being left unfilled. A position such as those in the plumbing industry, auto glass technicians, and other skilled laborers are just not appealing to the tech savvy and independent millennials. Where the previous generations before them were more than happy to take any job they could get that could easily support their families the millennials are looking for something more engaging.
When you take into consideration that most millennials are finding it much harder to start their careers the first reason people jump to is that the older generation is crowding the job market when in fact these generations are opening up a number of high paying jobs. Nearly 31 million new jobs will open up over the next few years giving the young millennials a number of places to turn to for work, but they are not considering getting the proper training necessary to perform these jobs.
Why Millennials Should Consider Trade Jobs?
Trade jobs are plentiful right now making them much easier to get hired in but aside from there being plenty of jobs available taking this route for a career can save a substantial amount in student loan cost. While most millennials are considering four-year degrees that will end up cost tens of thousands of dollars opting for an apprenticeship to learn a trade skill can be much more cost efficient. As opposed to forty thousand dollars a year for most college an apprenticeship can cost just a few thousand dollars. This can be a highly appealing option that leads graduates of apprenticeship programs, who receive an associate's degree with no debt when they finish.
Nearly 90 percent of students who graduate from their apprenticeships programs are offered jobs through the apprenticeship. This is a higher percentage rate than those who graduate from a four-year college. The biggest misconception that the millennials have about choosing a trade job is that they will not make as much money then if they earn a four-year degree. The truth is that some trade job workers make more money than their four-year degree earnings at least $5000 more.
Why Millennials Are Not Considering Trade Jobs.
Trade jobs from welders to electricians are just not crossing millennials minds as an ideal career choice for a number of reasons. There has been a reduction in wood shop or technical school options being given to the younger generations who are often pushed into earning a four-year degree right out of high school. Most of the younger generation are just not being exposed to the idea or option of learning a trade so they have little knowledge to even begin to consider such a career. If companies want to get these opened trade jobs filled, they need to start educated the younger generation about these alternatives.